LINE-X® SPRAY-ON TRUCK BEDLINERS

LINE-X® is the industry leader in truck bed protection offering specially formulated polymers that permanently bond to your truck's bed protecting it from just about anything you or mother mature can dish out.
And LINE-X protects more than just trucks. As one of the nation's leading providers of spray-on protective coatings our products are utilized in commercial, industrial, agricultural, military and custom applications.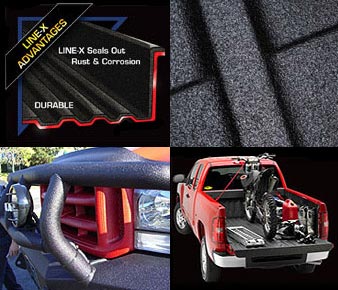 LAB TESTED, REAL-WORLD APPROVED
LINE-X Spray-On Bedliners and coatings are tested for strength and protection both in the laboratory and in harsh, real-world conditions to ensure the highest levels of durability.
TOUGH DURABLE PROTECTION
With a higher tensile strength than the "softer" spray-ons from our competition, LINE-X provides unmatched protection against gouges, rips and tears.
PROTECTION FROM EVERY ANGLE
LINE-X permanently bonds to most surfaces, with a factory-like finish that follows every angle and curve while creating a watertight seal.  No air gaps or drill holes to give water a place to hide – and rust a chance to take hold.
CHEMICAL RESISTANT
Independent tests show that LINE-X Spray-On Bedliners and coatings are resistant to most chemicals including chlorine, gasoline, diesel fuel, bleach, and most household solvents.
READY FOR IMMEDIATE USE
Professionally applied in approximately two hours, our non-skid surface is ready to go to work – or play – immediately, and ready for rugged use in just 24 hours.
TOUGH PROTECTION AT NO COST TO THE ENVIRONMENT
All standard LINE-X Spray-On Bedliners and coatings are environmentally friendly. LINE-X's solvent-free material contains no harmful VOCs or CFCs.
LIFETIME WARRANTY
Every LINE-X® Spray-On Bedliner comes standard with a Limited Lifetime Warranty that's valid at any of our close to 500 LINE-X locations nationwide. So no matter how tough the daily wear and tear you put your bedliner through, LINE-X has you covered. It is what we call serious protection.
"At LINE-X, we believe in protecting our customers with both our products and our service. When customers buy a LINE-X bedliner, they know it's fully backed by the LINE-X Corporation and their LINE-X dealer."
– Kevin Heronimus, LINE-X CEO
PRICING AND INSTALLATION
For pricing information and/or to set up an appointment for installation, please call us at 770-216-8303 or 800-440-8192 (Toll Free).
You can also email us using our Contact Form.