LINE-X Truck Accessory Center carries a full line of accessories for the interior of your car, truck, van and SUV. We stock floor liners, dash wood and trim kits, consoles, audio/video and much more.
Listed below are a few of the featured products that we offer: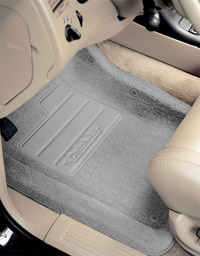 NIFTY CATCH-ALL FLOOR MATS
You don't have to choose between all-weather protection or plush carpet looks and feel anymore. Catch-All Floor Mats combine the best of both worlds – the perfect solution to your floor mat needs.
Catch-All Floor Mats all-around performance starts with a custom-molded base. This unique design hugs your floors and blocks mud, moisture and dirt from getting past the mat. Add the treated nylon carpet on top, and the perfect pairing of plush and protective is made.
Catch-All Floor Mats incorporate the little details you need in a set of mats. A raised outer edge contains deep messes. A unique anchor system fastens the mats in place – no sliding. Plus, integrated grommets mate to factory floor mat posts.
Choose Catch-All Floor Mats for any seating row or cargo area of your vehicle. They're available in charcoal, beige, grey, and select other colors. Plus, your Catch-All Floor Mats carry a Lifetime Warranty.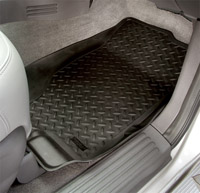 HUSKY LINER FLOOR LINERS
Often referred to as Floor Mats…
Husky calls them Floor Liners. Husky Liner Floor Liners are custom fitting floor mats with a raised lip designed to fit the complex contours of your specific vehicles carpeted floor areas. These "custom fit" floor mats are designed to fit your front, 2nd, and 3rd seat floor areas as well as your trunk and cargo spaces… like a glove. We make our custom fit floor mats with a patented rubberized thermo-plastic material that we guarantee not to crack or break. The Husky Liners Floor Liners form-fit design and raised embossing keep spills on the floor mat and your feet out of the mess. Our custom fit floor mat style Floor Liners will keep your carpet looking brand new for the life of your vehicle. Not just guaranteed for 3 years… guaranteed for life.
Available in Black, Grey and Tan. Husky Liners are made to fit most SUV's, trucks and popular makes of cars.